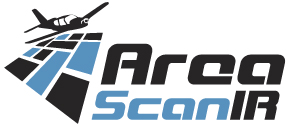 AreaScanIR™ is a service of the AITscan™ division of Stockton Infrared Thermographic Services, Inc. (SITS). SITS was founded in 1989 by Greg Stockton and is a leading provider of infrared thermographic services in North America. AITscan™ is the largest private aerial infrared operation in the world.
The concept is simple. This is about roof infrared imagery. We have flown over, or can fly over large areas of cities any areas with high concentrations of flat and low-sloped roofs and collect thermal infrared and visible light imagery. We are willing to license the use of this imagery to be used by your company. Infrared Thermography (Irt) is a well-known and proven non-destructive testing (NDT) method used to find moisture trapped in most roof types.
We have two types of imagery to offer:
Archived Imagery – Imagery that we have already collected during our operations in the past.
New Imagery – Imagery that you can order from us and we schedule and fly the area
Why do we have archived Imagery?
AITscan™ thermographers accomplish surgical aerial IR missions such as flying over flat and low-sloped buildings to find subsurface roof moisture, discovering pollution sources in creeks, rivers, lakes and streams, finding steam leaks and water leaks in district heating and cooling systems, counting animals like deer for municipalities, flying high voltage transmission lines for power companies, defining the extent of landfill fires and performing many other specialized aerial IR services. We have collected and archived some of that imagery and offer to license it's use to your company. The imagery is all different prices, ages, and resolutions. We can also mobilize to fly any area anywhere in the US.
Whatever your potential use for our imagery, whether archived or new, we want to work with you to get you exactly what you need. Call 800-248-SCAN!